Well Advised
Individual customer consultation and project support is the basis of a good business relationship at Sto. Whether on the telephone, in the show room or on the construction site – we will be pleased to provide you with advice, assistance and creative ideas.
Service at Sto goes far beyond the development and sale of high-quality products. Ultimately, any product is only as good as its application. This is why we place great emphasis on detailing, specifications, service and consultation. The Sto staff are there for their customers, providing comprehensive information, teamed with an experienced network of Sto registered Contractors who provide the best practical force on the construction site.
Furthermore - Sto have a comprehensive library of Sto details to assist your designer and comprehensive specifications to ensure the scope of work is identified. Where specific details are required the Sto technical team will work with the designer to help develop solutions that are based on the building code.
---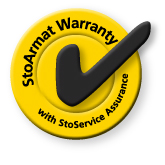 StoWarranty
with StoService Assurance
Sto Render Facade Systems come with a written Sto 10, 15 or 20 Year Warranty with StoService Assurance giving you peace of mind knowing you are protected.
All Projects must be completed by a Sto Registered Licensed Building Practitioner, complete Sto Quality Assurance Record and Sto Warranty Request to ensure the work meets the Sto Specification. On completion of the project we will precede to action the property with your chosen StoWarranty accompanied with StoService Assurance.
With a legislated emphasis on building maintenance, StoService Assurance offers a simple way for property owners to demonstrate they have met the obligations.
The StoService Assurance is administered by Sto every 2½ years and carried out by the Sto Contractor at the owners expense. It includes checks, cleaning and minor repairs of the Sto facade with advice for building owners on any additional maintenance requirements. The service check provides certified assurance that the facade has been serviced, protecting you and your property investment.
---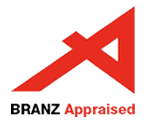 BRANZ Appraised
Sto systems have each been tested and approved by BRANZ
With an ever increasing number of world wide building products, materials and systems being sold to the construction industry it has become increasingly important to obtain certification to ensure exterior elements meet the structural, weathertight and durability requirements as stipulated by the government standards and building codes.
BRANZ an independent and impartial testing authority has worked with Sto over the last seven years to ensure the current twelve Sto Construction Systems are covered by one of nine Sto BRANZ Appraisals certifying these systems meet the requirements for local government compliance.
BRANZ Appraisals
No 468 StoLite —
lightweight stucco directly on 6.0mm fibre cement sheet construction.
No 478 StoTherm Insulation —
varying thicknesses of insulation panel from 40mm - 100mm finished in selected Sto Plaster System.
No 488 StoArmat Render / Plaster Systems —
meshed reinforcement render / plaster system for Monotek or VentClad fibre cement sheet construction.
No 515 StoArmat Miral Render / Plaster Systems —
concrete block, pre cast, poly block, and solid masonry systems.
No 604 StoTherm Masonry Insulation —
exterior insulation systems for concrete block and solid masonry.
No 605 StoStucco —
traditional 20mm plaster system embedded in stainless steel lath.
No 739 StoPoren Brick —
traditional 75mm thick veneer brick system on 40/ 75mm cavity with plaster finish.
No 772 StoPoren Panel —
light weight solid masonry reinforced panel with render / plaster finish.

---